March 13th, 2018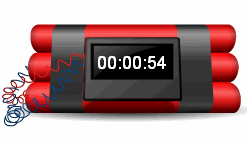 中文前言:
在使用 Kubernetes 的時候,可以選擇透過 Job 的方式來跑一次性的工作.但是如果希望你的工作在特定時間內一定得結束來釋放資源, 就得透過這個方式.
最近在研究這個的時候,發現有些使用上的小技巧,紀錄一下.
Preface:
If you want to force to terminate your kubernetes jobs if it exceed specific time. (e.g.: run a job no longer than 2 mins).
In this case you can use a watcher to monitor this Kubernetes jobs and terminate it if exceed specific time. Or you can refer K8S Doc:"Job Termination and Cleanup" use activeDeadlineSeconds to force terminare your jobs.
How to use activeDeadlineSeconds:
It is very easy to setup activeDeadlineSeconds in spec.
apiVersion: batch/v1
kind: Job
metadata:
  name: myjob
spec:
  backoffLimit: 5 
  activeDeadlineSeconds: 100
  template:
    spec:
      containers:
      - name: myjob
        image: busybox
        command: ["sleep", "300"]
      restartPolicy: Never

In this example, this job will be terminated after 100 seconds (if it works well :p )
Before you use activeDeadlineSeconds
If you ever run a job with activeDeadlineSeconds, you will need delete job before you run the same job again.
The job will not stop if you run the same job name with activeDeadlineSeconds
You will need change job name to make activeDeadlineSeconds works again. (suggest add specific tag in postfix of job name)
Reference:
---
---
---