July 30th, 2008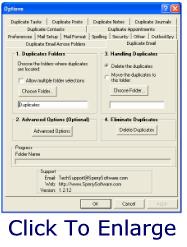 Duplicate Email Eliminator Add-In
http://www.sperrysoftware.com/Outlook/Duplicate-Email-Eliminator.asp
There's nothing more annoying than synchronizing and ending up with duplicate email. Eliminate duplicate email with ease with this powerful add-in. It saves you time by eliminating duplicates that occur within a single folder
商業軟體
如果是 Outlook Express
What to Do When You Receive Duplicate Messages in Outlook Express
If you are accessing a POP account (this is most likely, and is the case if your email account is neither a Hotmail nor an IMAP account) and have set it to keep mail on the server, at least for some time, the reason for the malaise may be a hiccup in the file that keeps track of the messages already downloaded.
To fix the same messages coming from a POP account again and again:
Click on the file named "Pop3uidl.dbx" with the right mouse button.

Select Delete from the menu.
Since Outlook Express has just lost even the rest memory of which mail it has already seen, expect all mail still on the server to be retrieve the next time you click Send/Recv. After that, mail retrieve should return to normal, however.
All duplicates already received can be eliminated fast with a duplicate removal tool.
http://email.about.com/od/outlookexpresstroubles/qt/et_duplicates.htm
軟體下載: http://email.about.com/od/removeduplicates/Outlook_Express_Duplicate_Message_Removal_Tools.htm
---
---
---